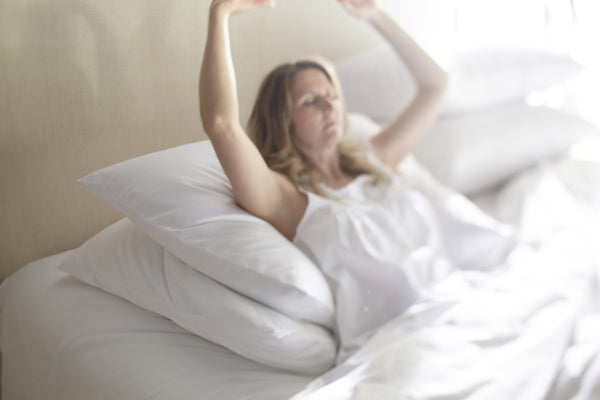 European Sleep System Softest (Ladies') Sleeper
Soft support system for bedrest, relaxation, and sleep.
The European sleep system consists of four specially sized pillows and a wool neckroll designed to cradle your body supportively and promote ergonomically correct and healthy bed rest. This set is the Ladies' sleeper that offers less support and creates the softest sleeping experience while still providing ergonomic properties. Hungarian goose down, the best in the world, is crafted into our specially sized pillows.  Experience the restorative power of sleep – how it feels to actually be alert all day, to wake up truly refreshed and renewed, in a luxurious haven created especially for them. If you like to indulge in the finest, you've found it. Watch our video about how to use the European Sleep System Pillows:
Included items:
- 2 Euro King Pillows, Strong yet soft support for bed rest, 70% Feather 30% Down, 60oz/1700g, 31x40." Encased in our 350tc Decadence Down down-proof ticking makes this luxurious pillow washable, and dryer safe!
- 1 Euro Queen Pillow, huggable and luxurious, use this as you sleep.  This is the first pillow down, pull down to tuck into bottom of back! This is the second pillow in the resting position! Incased in our 350tc Decadence Down down-proof ticking helps to make this luxurious pillow washable and dryer safe. 70% Feather 30% Down, 46oz/1300g, 31x37"
- 1 Euro Standard size, Softest Sleeper pillow is so soft, light and fluffy that it almost disappears in your arms. It is the softest and lightest pillow you will ever sleep with. It is a very light, squishy thin pillow that we usually recommend for one that sleeps more flat and doesn't want much elevation as the pillow has less filling and gives less support. Recommended for someone with smaller frame, children, elderly or one who would prefer the softest pillow possible. It is designed to give soft support to the upper body, neck and shoulders. Although this pillow can be used alone for sleeping, it performs best when combined as the top layer with the Euroqueen pillow.  It is the top layer in the bedrest position as well as in the sleeping position. It is the only pillow in the sleep system for which there is a choice of weight and firmness. Incased in our 350tc Decadence Down down-proof ticking helps to ensure the pillow to be washable, and dryer safe. 50% Feather 50% Down, 25oz/700g, 27x35"
- 1 Wool Neckroll, 12oz, 6x18", with 2 white cotton knit neckroll cover, zipper closure
Because our pillows for our European Sleep System are unique, don't forget to purchase our beautiful shams that will protect your pillows and serve as soft accompaniments to your dreamtime.
We have luxurious shams made from fine Italian sheeting and antique shams, which will definitely appeal to the collector in you if you love fine antique and vintage linens. If you're buying a complete set of European Sleep System pillows, you can buy sets of shams in 300-thread-count and 600-thread-count.
---